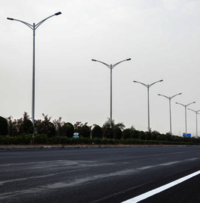 8 Mtr. MS Street Light Pole
Product Description
The offered MS Swaged Poles are widely used for installing street lights at highways and roads, parks, garden. Known for their high strength, aesthetic design and rust resistance, these poles are appreciated among our clients. The provided poles are manufactured using the pristine class of mild steel with the aid of ultra-modern machines by our skilled professionals. MS Swaged Poles can be purchased in various colors, sizes, diameters as per the client needs and requirements.
Key Points:
Non-corrosive
Easy to fix
Impact resistance
MS Swaged Poles are made with using high grade raw material like MS steel and sheets. Since these poles are swagged and not only linked, these boast of greater stability and strength. The versatility of steel permits engineers, architects and design professionals to utilize these products for a wide assortment of residential, commercial and municipal applications. These powerful and durable Swaged Poles have light-weighted and maintenance-free construction, which helps in minimizing the installation time as well as shipping costs. Our MS Swaged Poles are made of first-rate quality seamless or welded tubes that are of suited lengths swagged and linked together.
Features and advantages of Swaged Poles :
Made with optimal quality steel, no circumferential conjuncts in the individual tube lengths of poles.
Simple installation and upkeep, include all standard varieties of highway and street lighting poles and the standardized forms of traffic signal poles.
Highly corrosion resistant, durable, include light poles in single hang and double hang, street light poles, traffic light poles etc.
Come with long serviceable life, Swaging is done by Hydraulic power pack unit.
Designation

Overall length (L)

Plating Depth

Load applied from top at a distance of

Height above ground




(H)

Length of sections

Outside diameter and thickness of sections

Approx. Weight of pole

Bottom

(h3)

Middle

(h2)

Top

(h1)

Bottom

Middle

Top

410-SP-1

7.00

1.25

0.30

5.75

4.00

1.50

1.50

114.3x3.65

88.9x3.25

76.1x3.25

62

410-SP-2

7.00

1.25

0.30

5.75

4.00

1.50

1.50

114.3x4.50

88.9x4.05

76.1x3.25

73

410-SP-3

7.00

1.25

0.30

5.75

4.00

1.50

1.50

114.3x5.40

88.9x4.85

76.1x3.25

85

410-SP-4

7.50

1.25

0.30

6.25

4.50

1.50

1.50

114.3x3.65

88.9x3.25

76.1x3.25

67

410-SP-5

7.50

1.25

0.30

6.25

4.50

1.50

1.50

114.3x4.50

88.9x4.05

76.1x3.25

79

410-SP-6

7.50

1.25

0.30

6.25

4.50

1.50

1.50

114.3x5.40

88.9x4.85

76.1x3.25

93

410-SP-7

7.50

1.25

0.30

6.25

4.50

1.50

1.50

139.7x4.50

114.3x3.65

88.9x3.25

97

410-SP-8

7.50

1.25

0.30

6.25

4.50

1.50

1.50

139.7x4.85

114.3x3.65

88.9x3.25

103

410-SP-9

7.50

1.25

0.30

6.25

4.50

1.50

1.50

139.7x5.40

114.3x3.65

88.9x3.25

110
Trade Information
Contact us for information regarding our sample policy

North India
ISO, PWD, PVVNL, DVVNL, NHAI, GNIDA
Contact Us
Office: I-19, Site-5, Kasna Industrial Area, Kasna, Greater Noida, Uttar Pradesh, 201310, India
Phone :+918068342546